Harness the Power
of Online Reviews

Making a good first impression is important in business. Online reviews are a great way to grab new customers and let them know exactly how great you are.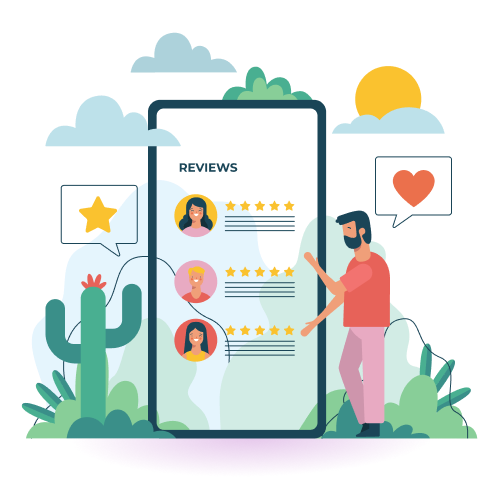 Get it in Writing!
The Pros and Cons of Online Reviews

Whether you are a restaurant owner looking to improve your Yelp reviews or an online retailer hoping to get more five-star reviews, online reviews can be a great way to boost your business's reputation. But there are pros and cons to consider before diving into the world of online reviews.

Pros

The biggest pro of online reviews is that they provide potential customers with an easy way to learn more about your business. A good review can give customers peace of mind that they are choosing the right product or company for their needs.
Positive customer feedback is a great way to strengthen relationships with existing customers and attract new ones.
Online reviews also provide businesses with valuable insights on how they can improve their services. Because many customers will leave detailed comments about their experiences, businesses can use this information to make adjustments that will lead to better customer service and higher customer satisfaction rates in the long run.
Well-managed online review sites can offer SEO benefits as well as increased visibility for your products or services. Google loves fresh content, so posting regular updates on review sites helps keep your business relevant in search engine results pages (SERPs). This means more people will be exposed to your business.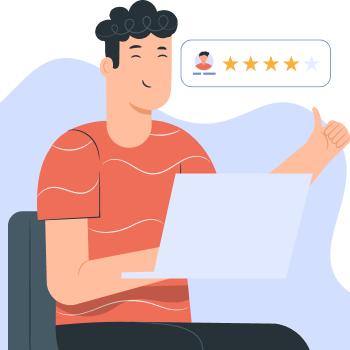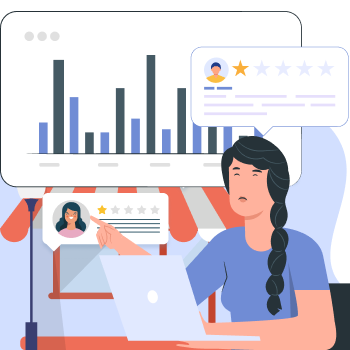 Cons

On the flip side, negative reviews can have a detrimental impact on your business's reputation if not handled properly.
Bad press travels fast, and it doesn't take much for one person's bad experience with your business to reach thousands of potential customers via review sites and social media platforms.
Negative reviews should always be taken seriously and addressed appropriately; any unprofessional behavior toward unhappy customers could lead them to post even harsher critiques of your company than before.
Get the stars
you deserve!

Review management takes time, and if not done properly will ruin your reputation. Custom Websites helps increase the number of your positive reviews and decrease the bad ones.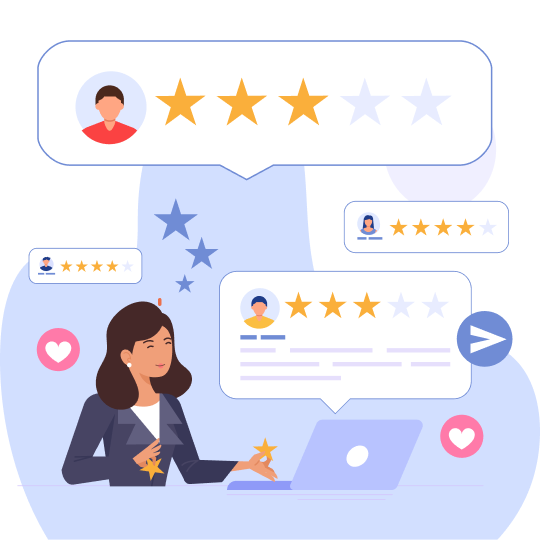 Monitor Reviews on the Websites that
Matter the Most to Your Company

It takes too much time out of your day to watch reviews on a variety of sites. Review monitoring services can save you valuable time by gathering reviews in one place. Customize the search to the areas that mean the most to you. Whether it is major sites like Google, Facebook or Better Business Bureau, or sites specific to your needs.

Custom Websites manages your reviews:

Review Generation: We provide you the tools and links for your customers to leave reviews. Get reviews on Google, Facebook, and industry specific sites with email and text review request campaigns.
Review Management: We promote your good reviews to the sites that work best for you. And, we try to eliminate bad reviews by passing them to you first. Hopefully giving you the opportunity to correct the problem before the public learns of it.
Review Monitoring: Keep an eye on your reviews. You get to see most all reviews as they are created so you can respond and act accordingly.
Review Reporting: Demonstrate the power of reputation improvement within your company through scheduled review performance reports.
Ready to get started monitoring customer reviews and boosting profits?

Leave us your phone number and email and we will match you with a Grade.us specialist so you can start your free trial. Calls are returned within 48 hours.